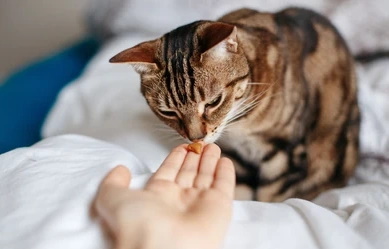 Here at Bella's Grace, we offer a wide variety of CBD products, including a skincare range. Today we will be focussing our attention to CBD hemp oil for pets. We will look at what the hemp oil for pets is, which pets it is suitable for, how to use it, and how it can benefit your furry friends.
What is Hemp Oil for Pets?
We know that animal lovers and pet owners care as deeply for their pets as for themselves, being a part of the family. Hemp oil for pets works in the same way as it does for people as cats and dogs have the same ECS (Endocannabinoid system) as humans. Both our dog hemp oil and cat hemp oil is available for £24.95 for a 50ml bottle.
How to Use CBD Oil for Pets
Our CBD hemp oil is suitable for both cats and dogs. In order to get the hemp oil you're your pet's system, you simply add as few drops to their food. It's also possible to use the hemp oil directly in your pet's mouth, but this method is unlikely to be as easy as using with food.  It should be consumed on a daily basis, allow a of period of time for the oil to work.
The Benefits of CBD Hemp Oil for Pets
The benefits of CBD hemp oil have been studied and this ongoing research has so far demonstrated that it also holds potential benefits for animals. In particular, research has found that hemp oils help if your dog is suffering from anxiety, cancer symptoms, back pain, arthritis, stress, and nausea, and gastrointestinal issues. Whilst these issues can rack up expensive vet bills, perhaps hemp oil could be used as an alternative natural treatment. Even without any existing problems, the use of hemp oil for pets can generally improves mobility and your pet's quality of life, supporting a healthy immune system. It can also reduce seizures, lower anxiety, reduce inflammation, ease osteoarthritis and joint pain, regulate metabolism, and can help improve your pet's skin and coat. Additionally, it can be used as needed for acute anxiety-triggered by events, for example, thunderstorms, fireworks, or long car journeys.
Our CBD Hemp Oil for Pets
This type of CBD hemp oil is formulated especially for pets, using 100% natural ingredients, with no additives or preservatives, no GMO, no gluten, no dairy. Concentrated in a convenient dropper bottle, it can easily be dropped directly into your pet's mouth or in their food or water. It has 0% THC, guaranteeing that it is non-psychoactive. For both people and their pets, we always offer the highest-grade herbal extracts derived from the cannabis plant. It can be safely used by pets of all ages for wellness and balance in the body.
Contact Us
For more information about our CBD hemp oil for pets here in the UK, feel free to get in touch and we will get back to you via email. You can also speak to a member of our dedicated team directly, call us on 0800 118 1610. We will be glad to help you with any questions you may have for us about our pet hemp oil or any other products.