CBD Chocolate Truffle Heaven
CBD Chocolate Truffle Heaven
Hello and welcome, hopefully by now you have had a good browse of our website and our fantastic range of CBD products has caught your attention, we want to introduce you to our new range of fabulous CBD Chocolate Truffles and let you discover your own taste of our CBD Chocolate Truffle Heaven.
Here at Bella's Grace we aim to improve your quality of life through our products, although there is no proven scientific evidence the customer testimonials speak volumes, I'm sure you will agree.
We recently teamed up with a pair of Scottish self-taught chocolatiers who previously ran their own chocolate and sweet making company based in the highlands of Scotland. We aim to bring to   you a fantastic range of delicious CBD Chocolate truffles with our organically grown CBD oil encased in them.
So, what does this mean for you the consumer?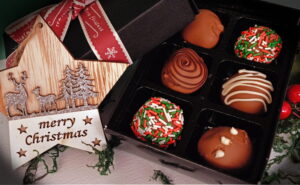 What's treats await you?
Well, you get the finest Belgian chocolate handmade truffle <which can be coated in a variety of coatings, or even plain dipped>. We can make them for any occasion you can think of and try to be as seasonal as possible when decorating them.
Using all their expertise and knowledge of chocolatiers and chefs with over 40 years' experience between them you are assured of a superior quality product, exactly the same as in the CBD oil, which is 100% organic using CO2 extraction pressed hemp seed oil, we pride ourselves to be selling.
Rest assured that each box of delicious Belgian chocolate truffles you receive or send to loved ones will be made fresh as the order is placed and sent within 48 hours of the processing the order to ensure they arrive at their best. Each Belgian Chocolate truffle contains 2 drops of our finest 10% CBD oil and the shelf life is 4-5 weeks when kept refrigerated <we ask that this is at all times due to the products containing fresh cream, butter and no preservatives>
Come on over to our online shop and take a look for yourself at our wide range of CBD products if you haven't already. ?